| | | |
| --- | --- | --- |
| | Wizard Screen (Add\Edit Backup...) | |
| | Select A Name Format For The Backup File | |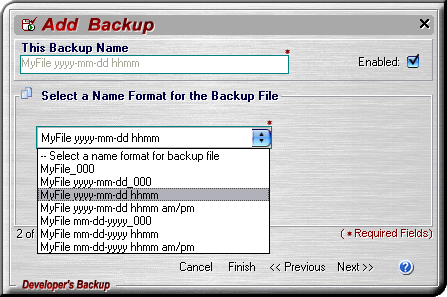 Select a Name Format for Your Backup File (required) is a wizard screen where you choose a name format that will help you best identify a particular version of the backup. The default is to append a timestamp to a backup file.


Usage notes:


Screen Items:
File Name Format - This is the format of the name to be given to your backup file. This name normally has two parts, the file or folder name and a date stamp. Alternately, a sequential number may be included in the file name. A zip backup will also have a .zip extension.

The following is a list of available name formats for this type of backup file:
Where:


Note: If a backup is performed twice in the same minute, seconds may be appended to the time to ensure uniqueness of the file name.