| | | |
| --- | --- | --- |
| | Wizard Screen (Add\Edit Backup...) | |
| | Select Zip Options | |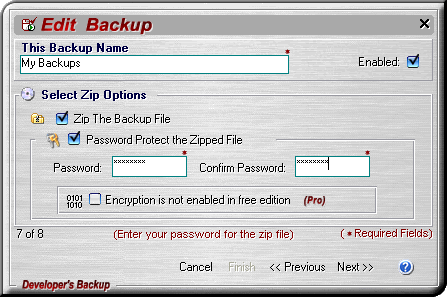 Select Zip Options is a wizard screen where you indicate that folders and files selected for backup are to be zipped using the international standard zip compression algorithm. A single file will be generated with a '.zip' extension.


Usage notes:



Screen Items:
Zip the Backup File - When checked, the files and folders selected for backup will be compressed into a single zip file using the industry standard zip compression format. The zip file can be opened by most popular compression software applications on the market.


Password Protect Zipped File - When checked the zipped backup file will be password protected so that only you have access to its contents. A password will be required to access your compressed data.


Password and Confirm Password - Enter the password with which a protected zip file is to be encrypted. It must be entered twice to verify accuracy. Don't forget your password because if lost it cannot be recovered.


Encrypt Zip With 256 Bit Encryption - (Professional Edition only). When checked, the zip file is created with an extra layer of security. All data in the zip file is garbled with 256 bit encryption. It will be nearly impossible for prying eyes to get your data.